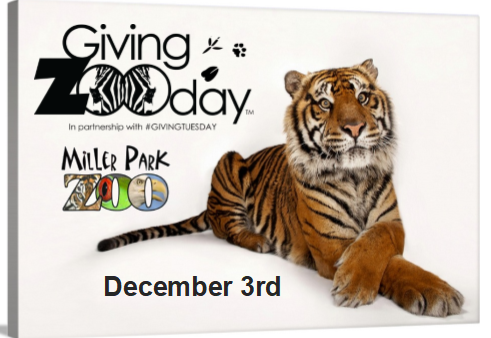 #GivingTuesday Is The Right Time To Give
It's always a good day when you choose to donate to Miller Park Zoo because you are helping our animal care and veterinary staff give care beyond the standard dietary and wellness requirements. If you give on #GivingZOOday in partnership with #GivingTuesday, you will be giving to our X-Ray Campaign and the time is right.
#GivingTuesday is a global day of giving that follows Thanksgiving, Black Friday, Small Business Saturday and Cyber Monday. GivingTuesday isn't just about fundraising, it's about communities banding together and giving of their time, power, skills, expertise, and resources.
AZA accredited institutions across the country, like Miller Park Zoo, are hosting #GivingZOOday campaigns on December 3rd. Our campaign is in support of animal care through the purchase of an x-ray machine.
Fundraising for an x-ray machine began earlier this year. Events and individual donations have raised close to $55,000. Our need is $75,000 and our goal for #GivingZooday is to raise $3,000 towards that need.
So follow us on Facebook, Instagram and Twitter on December 3, for exciting stories from our animal care team about how they will use x-rays to care for animals at the zoo.