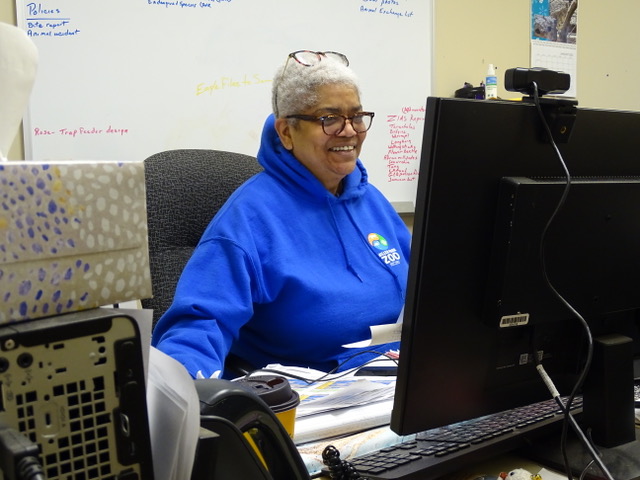 Pearl Yusuf – General Curator
This past June Pearl arrived at Miller Park to take on the job of General Curator. She is responsible for the care and welfare of the animals and those who care for the animals.
Her life-long passion for animals has led to a variety of jobs and some very unusual experiences. While pursuing her education at DePaul University in Chicago she volunteered at the Lincoln Park Zoo. The zoo was close enough to the university that she was able to work at the zoo before class, between classes, and after class.
After graduation she has worked at:
Brookfield Zoo Chicago, Illinois
Lincoln Park Chicago, Illinois
Zoo New England Boston, Massachusetts
Utica Zoo Utica, NY
St. Croix Animal Welfare Center St Croix, US Virgin Islands
Over the course of her 38-year career she has worked with large and small animals including: elephants, rhinos, giraffes, zebra, big cats, pygmy hippos, cranes, koalas, camels, primates, tropical species, and many more. Does she have a favorite species? No. Pearl has favorite individual animals she has worked with over the years including Betty, a pygmy hippo in Chicago and a Wattled crane named Kotze in Boston.
Over the years Pearl has had some unusual experiences.
Eucalyptus Procure.
Since koalas will only eat eucalyptus, a constant, reliable source must be maintained. There are hundreds of varieties of eucalyptus and not all are appealing to a koala. Pearl worked with growers in Florida to help them determine which varieties were koala approved.
Crane Egg Transporter.
An arrangement between zoos established a reintroduction program for Red Crown Cranes. These cranes are among the rarest in the world. Transporting the fertilized eggs requires perfect timing, careful temperature control, and a chaperone. Eggs can be moved within a window of 20 to 25 days after fertilization. If they are moved before that they can scramble. If moved after the window the chicks might hatch in route. In 2005, Pearl transported about 12 eggs from Boston and the rest from other zoos across the country to Khinghanski Nature Reserve in Far East Russia.
Wombat Tracker
After receiving her undergraduate degree from DePaul, for two and a half months Pearl lived in a tent at a research facility in the Australian Outback. She was part of a team that worked on many projects including mapping wombat warrens. This facility did research on the nitrogen level in the soil, emu behavior, recovery of native species and much more.
Emergency Drill Commander.
The variety of emergencies that can occur at is zoo is extensive. They can involve animals, people, facilities, weather, and more. Pearl has been responsible for training staff to respond, recovering escaped animals, and holding drills at many of her institutions.
Major changes Pearl has seen over her career include an emphasis on training animals, focus on enrichment, and developments like the "Frozen Zoo" institutions where animal genetic material is cryopreserved for posterity.
Keepers train animals using a system of cues and rewards. Once trained animals voluntarily allow blood draws, X-rays, ultrasounds and many other behaviors without having to use anesthetic.
Enrichment involves creating challenges which help animals improve or maintain their physical and mental health. This includes encouraging natural behaviors and stimulating natural reactions. Pearl has been known to sing to the pygmy hippos and dance for the giraffes. Reactions have been varied but stimulations were obvious!
Considering how many places she has worked and unusual experiences she has had Pearl brings a wealth of knowledge to Miller Park. She has remarkable stories to tell.