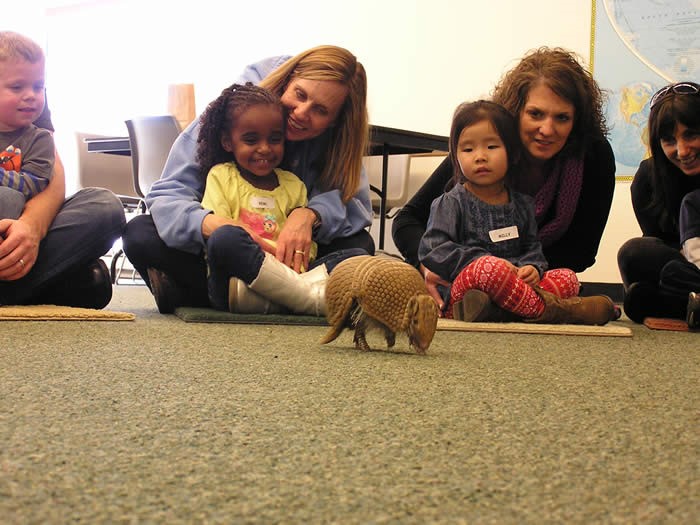 On any visit to the zoo there is much to learn about the animals. You can read the signs, ask a keeper, or just observe. There is something to be learned about every animal. In addition to what you can learn on your own, there are classes, education programs, and events both at the zoo and outside the zoo.
Julia Benzel, former Junior Zookeeper, seasonal education instructor, seasonal keeper, and fulltime swing keeper, is now the Zoo Education Manager and in charge of all education programs.
Programs at the zoo include:
Animal Crackers ages 3 to 5
ZooKids ages 6 to 7
Zoo Explores ages 6 to 11
Winter & Spring Safari Camp ages 6 to 11
Summer Safari Camp ages 8 to 9
Adventure Camp ages 10 to 12
Senior Tours for 60+
Junior Zoo Keeper program
This award winning, multi-level education and volunteer program is for junior high & high school students who are interested in learning about wildlife and how zoos work. 
Programs outside the zoo are tailored to the audience. The goal is to do 40 off-site programs a year. Julia and her staff design their programs with the audience in mind. The program for preschool is not the same as the program for seniors. The animals are chosen based on the audience. While people may want to request a specific animal, the education staff chooses the animals based on topic and audience.
Education animals have been trained to sit calmly in the educator's hands while the instructor makes a presentation. Often participants are encouraged to touch one of the animals (safely as instructed of course). A lot of time and training is invested to make sure each animal is able to remain calm and comfortable while sitting still and being touched.
Education animals include:
American kestrel "Jester"
Barred owl "Cypress"
Rabbits "Pickle and Dandy"
Cockroaches
Millipedes
Armadillo "Amata"
Guinea pigs "Gomez, Wednesday and Pugsley"
Rats "Mary, Marie, Michelle and Monique"
Box turtles "Cora, Flame and Rover"
Ball pythons "Tiki, Rhonde, and Portebello"
Pueblan milk snake "Queso"
Red Tailed Hawk "Borealis"
Fire skink "Ash"
New Caledonia giant geckos "Andre and Fiona"
Hedgehog "Sammy"
Kenyan sand boa "Safi"
Desert rosy boa "Darrel"
Blue- tongued skink "Banjo"
European glass lizard "Drako"
Educators take these animals to classrooms, nursing homes, and special events to communicate the Zoo's conservation mission. They can also appear at birthday parties hosted at the zoo.


For additional information on Zoo programs call (309) 434-2250 or go to Miller Park Zoo website.
https://www.bloomingtonparks.org/facilities/miller-park-zoo/classes-camps-and-field-trips